The year 2020 is especially important for the Livonian cultural space in connection with the events in Mazirbe commemorating the 150th birthday of the outstanding Livonian cultural activist Kōrli Stalte (1870, August 9, Mazirbe – 1974, January 12, Germany, Fehrbellin). The Livonian Festival organized by the Livonian Union and the summer school for children and youth of Livonian origin "Mierlinkizt" will take place during the year of Kōrli Stalte.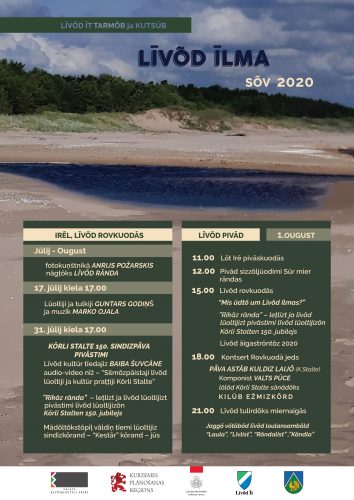 On July 31 in Mazirbe, there will be an afternoon event organised in memory of Kōrli Stalte. We are looking forward to the new and voluminous audiovisual story of Baiba Šuvcāne, a documentary of Livonian culture, about the life and multifaceted role of Kōrli Stalte in the events of Livonian cultural history. The Poetry Class "Lavish Seaside" will offer dedications from Latvian and Livonian poets Kōrli Stalte on his 150th anniversary. In the evening there will be a moment of remembrance at the Ķesteru Home, where the poet was born and lived. New commemorative plaques in honour of Kōrli Stalte in Livonian and Latvian will be unveiled near the building. Their author of the plaques is the sculptor Oskars Mikāns.
August 1 – Livonian Festival in Mazirbe. Traditionally the program consists of musical theatrical performances, concerts from Livonian musical groups, as well as cognitive events – exhibitions of works by Livonian artists, opening of newest issues, readings and discussions about discoveries in Livonian cultural history and contemporary developments in the cultural space. Although this year the festivities will be reduced in size due to the restrictions imposed by the state, they will still retain bright and significant accents of Livonian culture and traditions.
Musically, the Livonian Festival will be enriched by new works by the composer, co-creator Valts Pūce, whose idea came from Kōrli Stalte's poetry. Along with the signs of artists and writers of Livonian origin on the Livonian coast, the author will add his own unique signs with for anyone who cares about the modern expressions of the Livonian culture.
"What's new in the Livonian cultural space?" The authors and creators of the latest publications will answer this question in the hall of the Livonian House of the People. The readers of Kōrli Stalte's poetry collection "Lavish Seaside" and "Livonian Yearbook 2020" will also be joining the event.
A thick wreath of oak twigs for the mother of the sea at the beginning of the festival and the magical ritual of fire at sunset by the sea – these are the moments whose truth is so present on our lavish seashore. Livonian musical ensembles Laula, Līvlist, Rāndalist, Kāndla and Livonian musical associations will take part in the festival.
The events of the Livonian cultural space in Mazirbe in the summer of 2020 are supported by the State Cultural Capital Foundation, the Latvian National Centre for Culture, Dundaga Municipality and the Kurzeme Planning Rxegion.